Description
Several multi-use trails connect Wheatland park to Bartley Ranch and Anderson park. The trails stroll through agriculture land and sage brush. The trails are mostly flat and are all packed dirt. Depending on the equipment used, the Park loop at Anderson park is ADA accessible but it is a packed dirt trail.
A horse arena, amphitheater, picnic areas, and several historic buildings make up this unique park.
Heavy rain or snow can impede access to these trails or cause them to become washed out and muddy.
Other Information
Visit the Washoe County website to learn more about park amenities and reservation options.
To reserve a picnic pavilion or other buildings for events, contact Park Reservations at (775) 828-6660 or visit the website.
For upcoming events be sure to visit the Bartley Ranch Facebook page!
Bikes and horses are allowed on all trails except for the Flume Trail and Quail Run Trail.
Brush up on your Nevada history by watching this brief video on the Huffaker School house located at the park!
Trail Manager
For additional information visit the Washoe County website or contact: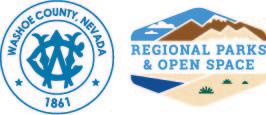 Washoe County Parks and Open Space
1001 E. 9th Street Building A, 2nd Floor
Reno, Nevada 89512
View website