Description
This very rocky and exposed trail is located in the southwest hills of Reno. This trail is mostly used by trail runners, mountain bikers and families. Two different loops make up the Ballardini Ranch trails, the lower loop and upper loop. The upper loop follows along a seasonal stream that is most active in the spring. For a longer trail with more stunning views you can take the one-way Timberline connector trail.
During summer months, this trail is very popular and crowded. Be prepared and bring extra water and sun protection since the trail is very exposed. In the winter, the trail is usually covered in snow. This would be a great are to snowshoe and cross country ski.
Other Information
For lodging and other activities in Reno visit the cities website.
For more information on other parks in Washoe County visit Washoe County Parks and Open Space website.
Trail Manager
For more information visit the Washoe County Parks and Open Space website or contact: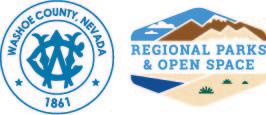 Washoe County Parks and Open Space
1001 E. 9th Street Building A, 2nd Floor
Reno, Nevada 89512
View website