Description
Berlin-Ichthyosaur State Park is an exciting and historical adventure. Nestled in the Shoshone Mountains, this park is home to the largest known remains of a 225-million-year-old Ichthyosaurus fossil. Housed in the Fossil Shelter, visitors can stop by and learn all about the extinct marine reptiles that resemble modern day fish and dolphins. These creatures were most abundant in the Last Triassic and Early Jurassic periods, and were seen as some of the top aquatic competitors. The State Park is also home to the mining town of Berlin and the Diana Mine. These landmarks transport visitors back to the turn-of-the-20th century, to the days of prospectors finding silver claims within Union Canyon. Berlin is a true ghost town, as it sprung to popularity around 1908, but would vanish by 1911. The self-guided interpretive trails within the park offer a written history for visitors to learn what life was like for the original settlers of these boom-and-bust mining towns of the late 1800's and early 1900's.
There are 14 camping units in the park, suitable for tents and RVs up to 25 feet, which include fire rings, grills, picnic tables, restrooms, and drinking water (available April through October). Day use areas are located by the Fossil House, which is ADA accessible. There are no designated ADA facilities located within the park, however many restrooms are ADA compliant and there is one available ADA compliant campsite. Interpretive trails and historic buildings are unpaved and not easily accessible.
While OHV use is restricted to established roadways within the park, the surrounding areas give access to the larger Humboldt-Toiyabe National Forest OHV trail network. The Berlin Canyon Trail is open for dirt bikes and runs 1.5 miles through the park. East Union Canyon Road is a 9-mile one-way trail close to the park open for OHV use. Do note however, that East Union Canyon road has trail damage about a mile east of the park boundary on USFS land, which may be impassable. Parking and staging areas are available closer to the town of Gabbs, which has limited amenities available. More OHV information can be found at: Off-Road Nevada - Berlin-Ichthyosaur State Park.
Other Information
Nevada State Parks has switched to a reservation system. Check the requirements for camping here!
Always plan ahead and prepare for uncertainty. Travel with warm clothing, first aid, food, water and appropriate tools to fix a problem.
Traveling in groups is always a good idea, as well as informing someone of where you will be going.
Berlin Ichthyosaur is OHV friendly to allow access to the park and campground. Riders are expected to obey posted speed limits and stick to established roads only which are clearly marked. Any off-roading within park boundaries will not be tolerated.
Berlin-Ichthyosaur State Historic Park | State Parks (nv.gov)
Nye County, NV Official Website | Official Website (nyecountynv.gov)
Do not touch or take any artifacts from any archeological sites you may come across. Please report damage to archeological sites here!
Trail Manager
For additional information, visit the Nevada State Parks website, or contact: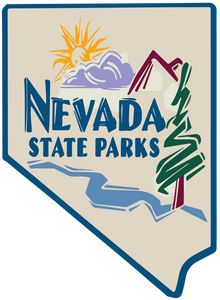 Nevada State Parks - Berlin-Ichthyosaur
HC-61 Box 61200
Austin, NV 89310
Phone: 775-964-2440
bisp@parks.nv.gov
View website